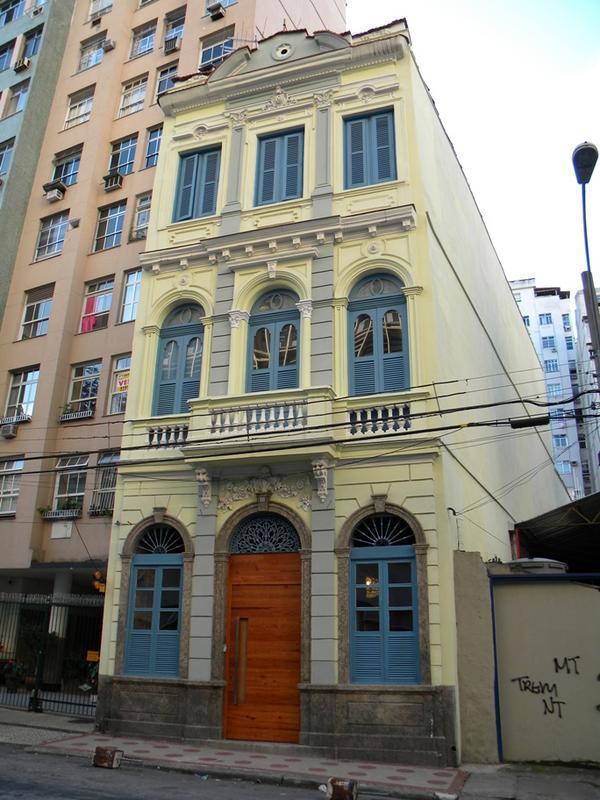 Kariok Hostel Informations
Kariok Hostel lies in a big ecletic house with confortable and modern instalations located a few steps from the subway, not only next to the Historical Center of Rio but also to the the city�s bohemiam heart, Lapa neighborhood, where the nightlife is always exciting.

All rooms include mini-bar, l
From Galeo International Airport:
Bus: 2018 (Real Autobus) Drop near Gloria Subway Station and go straight up to Benjamim Constant Street.
Cab: About 28 minutes Around R$ 40

From Santos Dumont Airport:
About 6 minutes drive away. Cab fee around R$ 10

Subway: Drop on Gloria Station and go straight up to Benjamim Constant Street. Our hostel is about 100 meters away.

Novo Rio Bus Station:
Bus: 498 / 497 / 405 Drop near Gloria Subway Station and go straight up to Benjamim Constant Street.
Cab: About 12 minutes Around R$ 18
Rua Benjamim Constant, 80 - Glria, Rio de Janeiro / RJ, Brasil - Cep: 2024-150 A few steps away the Gloria Subway Station, Outero da Glria Church, Aterro do Flamengo, acess to Santa Teresa and near the Santos Dumont Airport and Modern Art Museum (MAM).
If you have to cancel your booking, you must do it at least 48hrs before arrival. Check in: 14:00 Check out: 12:00 If you book between December 15th and March 15th you will be charged 50% in advance in order to secure your booking (non refundable). You also may be contacted by the property requesting the CVV code of the credit card used for this booking or asked for a deposit. **Payment policy for Carnival and New Year's Eve: Full payment in advance is required. After your booking is confirmed by hostelworld.com, you will be contacted by Kariok Hostel to proceed and arrange the payment method. Failure to complete the payment will result in cancellation of your booking. **Cancellation policy for Carnival and New Year's Eve: For cancellations and refunds, a minimum of 15 days prior to check in date is required.
Informations about Kariok Hostel
Kariok Hostel lies in a big ecletic house with confortable and modern instalations located a few steps from the subway, not only next to the Historical Center of Rio but also to the the citys bohemiam heart, Lapa neighborhood, where the nightlife is always exciting.

All rooms include mini-bar, lockers, great lighting and ventilation, and are equipped with singles or doubles beds. Also, most rooms have private baths.

The hostel has wide open rooms, barbecue area, sunbath with shower space, free Wi-Fi , PCs for commom use, a delicious breakfast and an all-equipped kitchen for guests to use.